Our commitment is to deliver the highest quality in all aspects of our operations.
This is why we pair our knowledge, skills and years of experience with the top products on the market.
It's our proven effective way to ensure comfort, efficiency and lifetime savings for every household we serve.
There are several types of insulation and among them is spray foam insulation, which is a combination of polyurethane and isocyanate.
This combination of composite materials expands and hardens to protect the area where they're applied and also improves the strength of a structure.
Spray foam insulation comes in two types: open cell and closed cell. The former is denser and it has a spongy texture.
Meanwhile, the latter is more expensive but it's considered the most powerful insulation there is.
We at Nor-Cal Insulation Inc. only use the best open and closed cell spray foam insulation products on the market.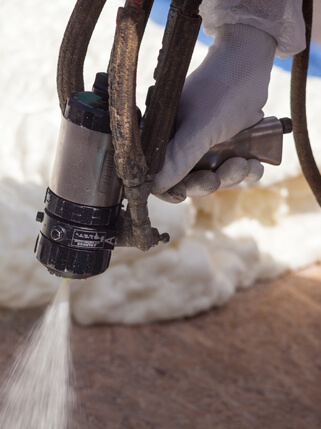 The "Green" Insulation
If you're looking for an eco-friendly option for your home, we use Demilec Agribalance Open & Closed Spray Foam Insulation.
This insulation material boasts the following advantages:
Improved thermal conductivity – the lowest thermal conductivity of any open cell foam on the market.
It's made using renewable vegetable oils, thus earning for itself the approval and seals of the NAHB Research Center, USDA, and EcoLogo.
It has high expansion rates, effectively sealing off all gaps, cracks and penetrations.
It has an airtight nature, draft-proofing buildings effectively.
This can decrease the possibility of molds and mildew developing inside the home.
It is impressively durable.
It is a sound attenuation material. As such, it minimizes outdoor noise disturbance really well.
The Top-rated Insulation
As the most trusted spray foam insulation contractors in San Jose and the Bay Area, we offer our clients another top-rated option: the Bayer BaySeal Open & Closed Cell Spray Foam Insulation.
Industry experts say it's one of the best, if not the best performing insulation. It provides numerous benefits such as:
Cost-effectiveness. This means that despite the higher initial cost, the many years of service it offers easily make up for that.
Energy efficiency. With this insulation product in place, HVAC appliances never have to consume more energy than they actually need to — and lower energy consumption means lower utility bills.
Better air quality, because it keeps allergens, dust and other pollutants out.
Improved indoor acoustics, because this insulation material forms a barrier that actively reduces outside noise.
Completely tight seal, for it goes from liquid to solid really quickly, filling every crack, hole and crevice so no air or moisture can seep into the house.
We're Available Monday – Friday 8am to 5pm
Message Us
Send us a message on our Facebook!