Reasons Why You Should Have Nor-Cal Insulation Install Blown-In Insulation In Your Home:
One of the most popular types of insulation used today is blown-in insulation.
The process refers to blowing loose-fill insulation into walls and ceilings with the use of an electric blower.
For our team at Nor-Cal Insulation Inc. in San Jose, CA, Certainteed Blown-in Loose Fiberglass Insulation is one of the most recommended products since it offers the following benefits: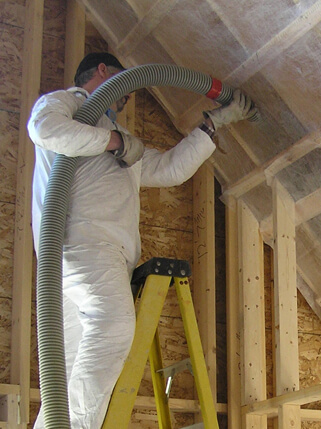 1. High thermal performance and energy efficiency
Many homes are under-insulated; this means that these properties constantly experience significant heat loss during winter and heat gain in the summer.
This, in turn, causes the HVAC equipment to work harder, which then translates to higher energy bills.
Fiberglass insulation can turn things around in your home since it provides superb energy efficiency and thermal performance that lead to more comfortable living spaces. This also means lower energy costs for homeowners.
In addition, loose fiberglass insulation is inert and does not settle, and as such, it maintains its R-Value for a long period of time.
R-Value refers to a building material or product's thermal resistance — the higher the R-Value, the greater the insulating power.
Optima Blown-in Loose Fiberglass Insulation, in particular, has an R-Value of R-15 (2″ x 4″) and R-23 (2″x 6″) which are higher than most other types of insulation.
As a result, you have a more comfortable home regardless of the season without the need to turn your heating and cooling system up or down.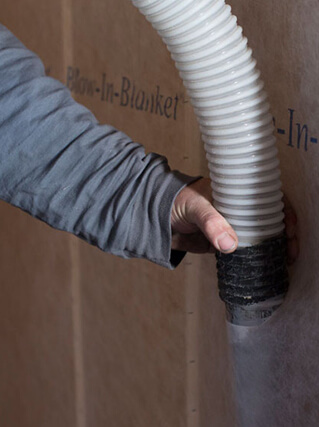 2. Better moisture management
Certainteed Blown-in Loose Fiberglass Insulation is equipped with vapor retarders which help reduce the risk of mold and mildew in your home.
This feature can also improve your home's indoor air quality and give you a healthier environment overall.
You will be able to avoid the additional costs and inconveniences of dealing with molds, mildew, and other problems caused by moisture in your home as well.
3. Improved acoustics
This type of insulation helps prevent unwanted outside noise from penetrating your home.
According to experts in blown-in insulation installation, when loose fiberglass insulation is installed correctly to interior walls, noise and sound transmission are limited from one room to another as well.
4. Enhanced air tightness
Optima Blown-in Loose Fiberglass Insulation and other Certainteed products effectively seal air leaks and infiltration points.
This results in tighter protection for your home. Because of this additional protection, drafts and hot and cold spots throughout your home are further reduced.
5. It is non-combustible
Lastly, fiberglass is made from sand and glass, and as such, it is naturally noncombustible.
Certainteed Blown-in Loose Fiberglass Insulation products also maintain this quality throughout their lifespan, unlike other brands and materials that require fire-retardant additives which lose their effectiveness over time.
It is important that you choose only the best quality of insulation material, and only a trusted, seasoned contractor, so that the blown-in insulation process will go well from start to finish.
In addition, you will avoid wasting money and experiencing all the inconveniences that come with expensive re-dos or repairs.
We're Available Monday – Friday 8am to 5pm
Message Us
Send us a message on our Facebook!